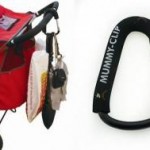 Mandy and I have been using one of these for a while now – it's great for hanging a small rucksack containing Jacob's pump together with drugs, spare nappies and clothes (usual supplies!) to his pushchair.
The cheapest I've seen them on sale for is £4.69 plus 0.99 postage (rrp is £5.99 each).
We have an opportunity to bulk buy (min order is 12 units) and sell for £4.50 each plus postage – please reply to this post if your interested?