I was invited to speak at the recent World Travel market in London and join a debate to discuss whether the travel industry is doing enough for disabled passengers. During my day I was told about a recent purchase by Virgin Atlantic which would have certainly made our families experience of flying a lot easier!:
In October 2012, Virgin Atlantic became the first airline to purchase the new, improved TravelChair from the children's charity MERU.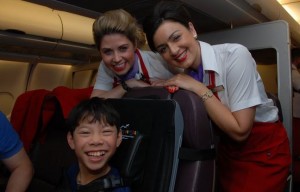 The new TravelChair has been specially designed to provide postural support for disabled children during air travel. It can accommodate children between the ages of 3 – 11 years (depending on height and weight) and offers firm, postural support for a wide range of disabilities.
Virgin Atlantic has been using an earlier version of the TravelChair for many years with fantastic feedback from cabin crew and parents. Parents simply advise the airline of their need to use the TravelChair when making the booking to ensure it is on board for both outbound and inbound flights – all at no extra charge.
The new improved TravelChair is lighter and offers various adjustable features to ensure that disabled children are supported and comfortable, even on long haul flights.
Susan Brumpton, MERU CEO, said:
"MERU are a small charity with a big objective: to enable as many disabled children to travel by air as possible. We are delighted that Virgin Atlantic have purchased the new, improved TravelChair and will offer it as part of their standard service. Virgin Atlantic has been hugely supportive of the TravelChair and we are impressed with their commitment to disabled passengers"
Passengers wishing to book a flight with Virgin Atlantic can either log onto
www.virginatlantic.com or call 0844 20 92 770 to make a reservation.