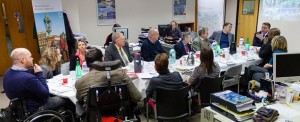 I had the pleasure to take part in an open discussion with the German National Tourist Office on the 26th February. The discussion looked to establish requirements for promoting accessibility travel – a concept called Barrier Free Travel.
Representatives from tour operator companies, disability charity organisations, travel website specialists and the Germany Embassy were all involved in the discussions. These included subjects such as methods of assisted travel, different levels of accommodation, inspiring activities for all ages and for a wide variety of needs; in short, how visitors to Germany could experience the fullest, most enjoyable and barrier-free holidays as possible.
What became clear is that, as a country, Germany offers so much for all abilities and are working to make access for those less physically able even better – great to see!
Next time you are considering a short break or holiday, take a look – you might just be surprised.
David